Now that we've moved into the master bedroom (well, almost), we're using the en suite bathroom. It's tiny. I mean really small. We've got the shower, toilet, and basin with a small cupboard underneath. There is a medium sized window and a small round mirror on the wall. We also have a sliding door to the bathroom.
I've been trying to think of a way to update the room, but without spending a whole lotta money, and still keeping the bathroom rental friendly.
I'm in love with the colour teal at the moment, and would love to be able to incorporate the colour into the room. I have to paint the walls white, so at least I'll have a neutral base to start off with. I'm thinking of doing some sort of feature wall, on the wall with the mirror. Something like below, but invert the colours. I don't know if I should by contact, instead of wall paper, or some sort of decorative tape.
Next to the basin, on the left hand side, is a bit of dead space. I'd like to be able to put some sort of skinny shelving there, so I can increase the storage, but I can't quite work out the perfect design. Failing that, I'll hang my hair dryer there hahaha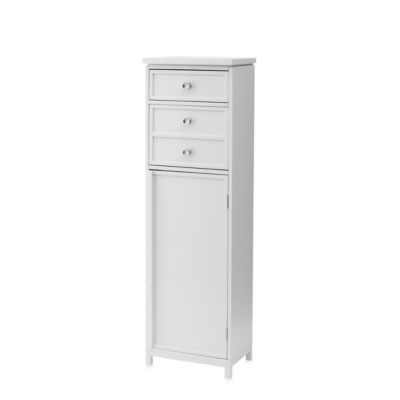 Of the above three, I like the one on the very right. It's not too high, has shelves and a cupboard, but I think it might be a little wide... awks.
I'm also in love with the idea, of a really big mirror on the wall, hanging landscape style. With a nice ornate frame. I think it would be a piece of art in it's self! Plus, then I can actually see my face to do my make up :)
There are so many options for storage and design, I even dream about doing up my bathroom! Hopefully I can make a decision, and we can have a nice bathroom for once!
Stay tuned for more updates about our house!
Love,
J xx